---
MAGELLAN YOGA RETREAT
This will be a trip of a lifetime! It's an opportunity for those who love to explore and really see the world. It's for the people who crave authenticity and who want to break out of their shell a bit. This is a trip about forgetting the past and taking no thought for tomorrow, instead living in the present. You will experience yoga workshops that strengthen your practice and give you time to correct poses, ask questions and open your mind. We'll see the beaches and the jungle. You can surf, zip line, snorkel, hike, chocolate tour, waterfalls, jaguar rescue center, ride horses or soak on the beach with a good book. We'll eat incredible food and enjoy the new friends we have met along the way.
This retreat is for you if:
You want to open your mind and body to new experiences
Increase your yoga practice and strengthen your meditation
Eat amazing healing health food
Take an adventure you will not soon forget this journey
Met new people and share yourself with like-minded individuals
What's included:
Accommodations
3 meals per day all vegetarian/vegan options
2 yoga classes per day
3 Tours
Ground transportation to tours
Swag bag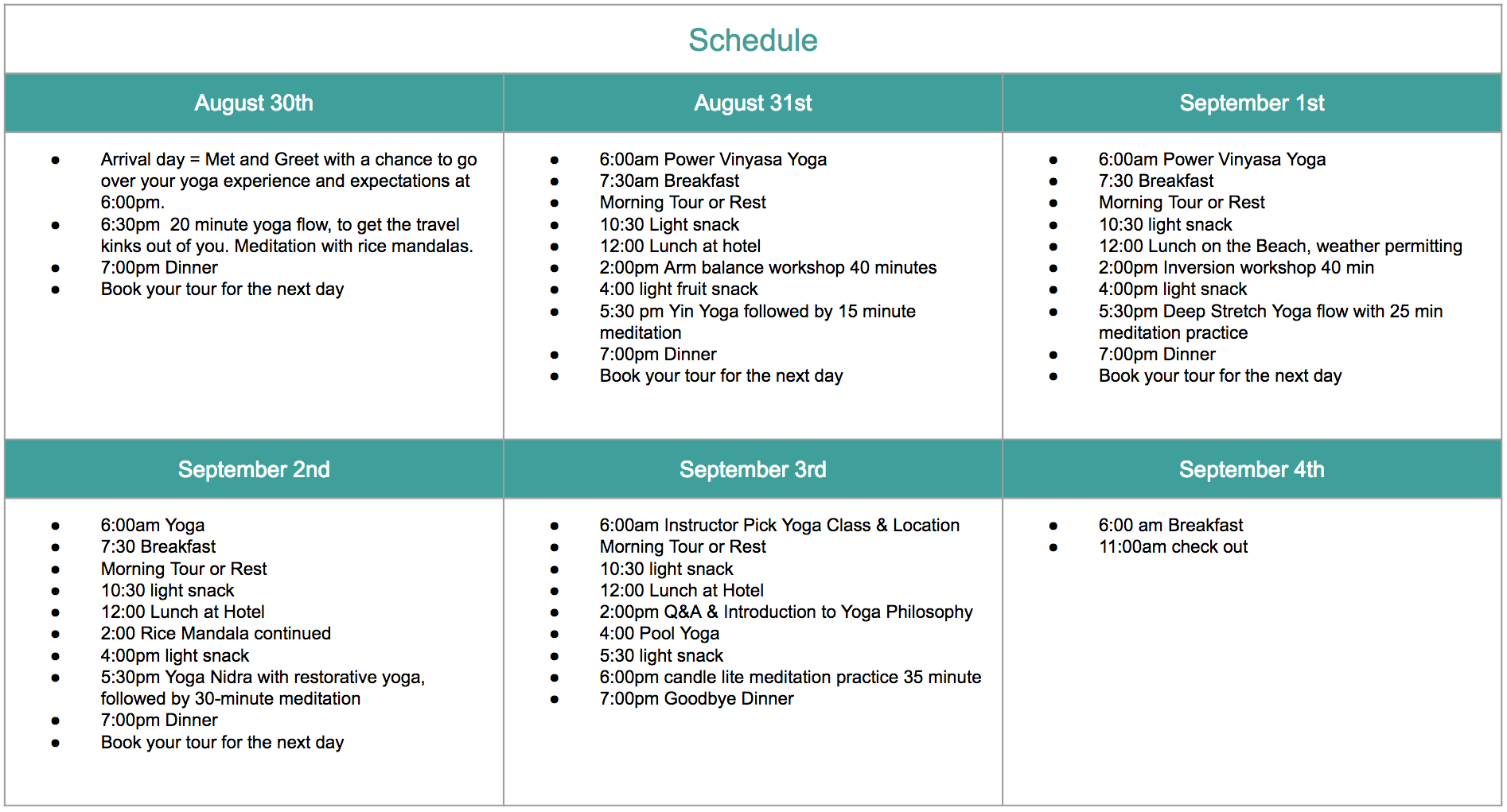 Price:
$1,582.00 for one person in a private room with king bed, a/c and private bathroom with shower
$2,431.63 for two persons in a shared king bed, a/c and private bathroom with shower. *No separate beds.
Date:
August 30 - September 3rd
Yoga at Magellan
We are happy to offer yoga classes here at the Magellan. We have select teachers throughout the year who offering both individual classes and private classes. The classes aim to relieve tension and stress, strengthen the body, and allow the student to reconnect to their inner peace.
Open Class times:
*** Important: The yoga classes are closed until July ***
Tuesday 8am-9am ~ 4:30pm-5:30pm, Thursday 4:30pm 5:30pm Friday 7:00am-8:00am
Classes are $10.00 or 5,000 colones.
Private Classes can be arranged with a 24-hour notice and cost $20.00 or 10,000 colones.
Yoga Packages
Our Yoga packages are created with the traveler in mind to share the experience of yoga. The packages are designed to work around your schedule. We want to help you stay centered on your vacation without making it all about yoga. Our instructors will be happy to gear the classes to your level and desired practice of yoga. Enjoy the balance of yoga, nutritious breakfast and the breath taking beauty of Cahuita.
Nourish Your Yogi Package
Awaken the soul with a 3-day yoga experience in the beautiful jungle setting of the Magellan. Enjoy a three night stay specifically designed to renew, rejuvenate and balance your sprit. Beginning at $730.00 price for 2 persons (enjoy $90 in savings) you'll receive:
3 Private Daily yoga sessions
Artisan tea waiting in your room upon arrival
Nutritious breakfast everyday (vegetarian/vegan options available)
One picnic lunch to go, for the perfect beach day
3 night accommodation
*7-day notice is required. Only available when you book directly with the hotel. Cannot be used for groups. Not valid during holiday periods.
If you'd like to reserve, or if you want us to create a customized package, contact us and we will be happy to design a yoga package just for you!
Massage
At the Magellan Inn, we care about your wellbeing. That's why we want to encourage you to take the time to treat yourself with an in-house professional therapeutic massage to soothe your mind, body and spirit. Is there a better way to relax and unwind after a long hike or a day at the beach?
Swedish Massage (60 or 90 minutes, $50-$70)
Combining strength and softness, this massage eliminates tension, reduces stress and improves blood circulation.
Californian massage (60 or 90 minutes, $50-$70)
Very soft and enveloping, this massage is recommended for relaxing the muscles, stimulating blood flow and rendering the spirit calm.
Deep Tissue Massage (60 or 90 minutes, $60-$80)
A highly effective method for relieving chronic pain and stress from misalignment, concentrating on deep layers of muscle and releasing toxins entrenched in the body.
Tonic Massage (60 minutes, $60):
Ideal for athletes and outdoor enthusiasts, this massage is wonderful for alleviating deep muscular tension.
Chiropractic Massage (60 minutes, $60)
If you've brought your previous back pain or injury with you on holiday or generally feeling out of whack from long flights, consider chiropractic massage.